Terminator Genisys: Future War APK is a game to engage yourself in strategic warfare between humans and machines.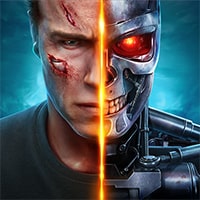 The events of the game take place in the post-end of the world depicted in the movie Terminator Genisys. Skynet is down and Genisys is destroyed, but the conflict of the future is far from ending.
Features of the game:
Two playable options, each having its own storylines, armies, structures, and upgrades
Completely free to play Terminator Genisys: Future War APK
Go on solo wars or join a clan to dominate
Unlock achievements and get rewarded on the way
High-end graphics

Join the fearless commanders and fight the deadly robots of the Skynet or the rebels. In a world that is already torn apart, only the strongest can survive. You are humanity's final hope! Keep fighting!